Watch CBS News Sunday Morning
---
"CBS News Sunday Morning." This program airs at a different pace, and focuses much of its attention on the performing arts. After a quick update of the day's news and national weather, correspondents offer longer-length segments on a variety of topics, from architecture to ballet to music to pop culture to politics. Each broadcast typically closes with a minute-long scene from nature and a folksy farewell from anchor Charles Osgood.
Sunday 9:00 AM et/pt on CBS

8 Seasons,

230

Episodes

June 19, 2016

/

10

Cast:

Charles Osgood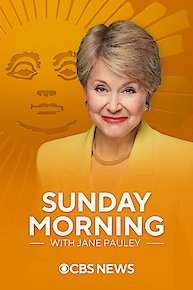 CBS News Sunday Morning Full Episode Guide
Season
40
302 clips available
Episode

49

-

Jan 21, 2018

Episode

48

-

Jan 14, 2018

Episode

46

-

Dec 31, 2017

Episode

45

-

Dec 24, 2017

Episode

44

-

Dec 17, 2017

This broadcast of "Sunday Morning," hosted by Jane Pauley, features John Blackstone's report on one toymaker's unorthodox road to producing and marketing the year's hottest toy. Also: Seth Doane sits down with Oscar-winning actor Christoph Waltz, as he directs a Verdi opera; Jim Axelrod profiles singer-songwriter Michael McDonald; Rita Braver looks into the history of a holiday tradition, the White House Christmas Ornament; Conor Knighton visits Madrid, N.M., a former mining community and ghost town which revives its Christmas traditions in a funky way; and Techno Claus (a.k.a. David Pogue) shares his suggestions of holiday gifts for the gadget lovers on your shopping list.

Episode

43

-

Dec 10, 2017

Episode

41

-

Nov 26, 2017

Episode

40

-

Nov 19, 2017

Episode

39

-

Nov 12, 2017

Episode

37

-

Oct 29, 2017

Episode

36

-

Oct 22, 2017

Episode

35

-

Oct 15, 2017

Episode

32

-

Sep 24, 2017

Episode

31

-

Sep 17, 2017

Episode

30

-

Sep 10, 2017

Episode

28

-

Aug 27, 2017

Episode

27

-

Aug 20, 2017

Episode

26

-

Aug 13, 2017

Actress Jaclyn Smith; automation in the workplace; companies' return policies; the licensing of viral video clips; airline travel points; the importance of the neighborhood bodega; entrepreneurial success stories; a virtual currency called Sardex.

Episode

24

-

Jul 30, 2017

Episode

23

-

Jul 23, 2017

Episode

22

-

Jul 16, 2017

CBS News Sunday Morning is a early morning news and magazine program that airs on Sunday's on CBS.

Episode

19

-

Jun 25, 2017

The impact of the iPhone; a woman who has had two heart transplants shares her story; tennis player John McEnroe; comic Dick Gregory; singer-songwriter Cyndi Lauper; glassmaking on the Italian island of Murano.

Episode

18

-

Jun 18, 2017

The role of the media in the formation of Americas' opposing political viewpoints; the life and legacy of Gen. George Armstrong Custer; comic Dick Gregory; millennial fathers; Monterey Pop Festival; pianist Lang Lang; comic Jim Gaffigan.

Episode

17

-

Jun 11, 2017

Episode

15

-

May 28, 2017

Episode

14

-

May 21, 2017

Episode

13

-

May 14, 2017

Episode

11

-

Apr 30, 2017

Episode

10

-

Apr 16, 2017

Our Easter Sunday broadcast features several stories by Mo Rocca reporting from Rome, including his tour of St. Peter's Basilica in the Vatican, his story of how St. Francis inspired Pope Francis, and an interview with a real-life princess, the former Rita Jenrette. Also: Tracy Smith interviews music superstar Ricky Martin; Chip Reid sits down with Senator Elizabeth Warren; Rita Braver explores a new Degas exhibition; and Seth Doane finds out how some very special chocolate Easter Eggs are made. Hosted by Jane Pauley.

Features include: Seth Doane visits the Svalbard Global Seed Vault in Norway, repository of more than half a billion seeds beneath the Arctic tundra; actor Alec Baldwin talks to Rita Braver about his new memoir, "Neverthless," and the highs and lows of his life and career; Bob Schieffer sits down with country legend Willie Nelson; Erin Moriarty interviews the "Queen of Suspense," mystery writer Mary Higgins Clark; and Mark Strassmann rides in a submersible 715 feet down to the ocean floor, just 35 miles from Cape Hatteras, N.C., to the recently-discovered wreckage of a German U-Boat. Hosted by Jane Pauley.

Features include: Ted Koppel on the increasing polarization of politics in America; Faith Salie looks at the history of the comic book superheroine Wonder Woman; Martha Teichner profiles actor Danny DeVito, making his Broadway debut in Arthur Miller's "The Price"; Jim Axelrod hears from one of the most popular voices in sports broadcasting, Verne Lundquist; and Mo Rocca wonders if it's really the last call for the once-ubiquitous phone booth.

A profile of actor Dennis Quaid; a tour of the USS Zumwalt, the Navy's newest hi-tech warship; a look at architecture in Palm Springs, Cal.; interviews with the creative team behind "Moonlight"; an appreciation of Mary Tyler Moore; a talk with an artist who creates trail maps for ski resorts.

A profile of actor Henry Winkler; a report on the Women's March on Washington, D.C.; a look at Donald Trump's Inauguration; a hunt for white truffles in Italy; the history of McDonald's hamburger empire.

The life and legacy of President Barack Obama; actress Viola Davis; singer Jackie Evancho; Eric Fanning, Secretary of the Army; White House photographer Pete Souza. Also: a look at trends in Inaugural gowns; a visit to St. Paul's Chapel in New York City where George Washington prayed on his Inauguration Day; an exhibit of elaborate dollhouses.

Rock star Iggy Pop; filmmaker Lee Daniels. Also: a report on virtual reality; a search for a "cursed" lost city; a look at Hollywood artist Tyrus Wong's life and career; an exploration of the friendship between a man and an old racehorse.

A profile of actor Henry Winkler; a report on the Women's March on Washington, D.C.; a look at Donald Trump's Inauguration; a hunt for white truffles in Italy; the history of McDonald's hamburger empire.
Season
39
122 clips available
Episode

51

-

Dec 25, 2016

An interview with the Dalai Lama.

Episode

50

-

Dec 18, 2016

The influence of fake news and stories about Russian hacking; actress Nicole Kidman; gift-wrapping artist; a diverse choir ; Robbie Robertson; Paulo Coelho.

Episode

49

-

Dec 11, 2016

Carnegie Hero Medal; Viggo Mortensen; Billy Eichner; Sutton Foster; gifts for technology lovers; Hawaii's lava fields.

Pearl Harbor; Keith Richards and Mick Jagger; Billy Bob Thornton; a photographer who takes portraits of transgender people.

Jane Pauley inaugural broadcast as anchor of the series. Stories include: Supreme Court Justice Ruth Bader Ginsburg; singer Céline Dion; actor Nick Nolte; Hurricane Matthew; the ancient art of bonsai; placebos in medical research; the second presidential debate.

Episode

37

-

Sep 18, 2016

Musician Bruce Springsteen; former Beatles Paul McCartney and Ringo Starr; the odds of being lucky; the new season of books, movies and art; makeup artist Riccie Johnson; coloring books for adults; Denali National Park.

Episode

36

-

Sep 11, 2016

Quincy Jones offers a preview of the National Museum of African-American History and Culture. Also: Demi Lovato; Wendy Williams; a tour of the 9/11 Memorial; a report on what motivates people to vote for Donald Trump.

Episode

35

-

Aug 28, 2016

Barbra Streisand; Meg Ryan; a look at how one man is using art to help children suffering from rare diseases; a report on what Santas do in the summer; a visit with special needs students, whose lives have been transformed by making music using iPads.

Episode

34

-

Aug 21, 2016

Is moving to Canada a real option?Anxiety about the election results may lead some Americans to consider migrating North - and might lead Canadians to build themselves a wall. Former Canadian John Blackstone reports.

Episode

33

-

Aug 14, 2016

Dressing down: The rise of athleisure | Watch VideoMartha Teichner looks at what's behind the "athleisure" craze -- the exploding trend of wearing workout clothes to work as well as play.

Senior athletes: Going the distancePhysical functions typically decline due to aging, but Lee Cowan introduces us to runners at the Huntsman World Senior Games who would put many younger athletes to shame.

Episode

31

-

July 31,2016

Episode

30

-

July 24, 2016

Ted Koppel interviews Donald Trump. Also: a profile of actress Kristen Bell; a visit to Philadelphia, home of the Democratic National Convention; a look at the Philadelphia Mural Arts Program; a report on men married to women, who hold top elected positions in government.

Episode

29

-

July 17, 2016

A tour of Cleveland, site of the 2016 Republican National Convention; a visit to the Cleveland Play House with Joel Grey; an interview with Meryl Streep (Florence Foster Jenkins (2016); a visit with the band Chicago.

Episode

28

-

July 10, 2016

The growing number of elderly athletes who continue to perform; photographer Arthur Grace; scientist Bill Nye; city dwellers moving to suburban areas that feature farms; singer Elton John.

Episode

27

-

July 3, 2016

Author Bill O'Reilly talks history; singer Maren Morris; musician Weird Al Yankovic; efforts to use private funding to get young people to work on National Parks; artist Kadir Nelson; Harley Davidson enthusiasts in Shanghai.

Episode

26

-

June 26, 2016

Episode

24

-

June 12, 2016

Episode

23

-

June 5, 2016

Actor Matthew McConaughey (Free State of Jones (2016)); author James Patterson; adventurer Colin O'Brady, who climbed the tallest summits on seven continents. Also: the history of Carnegie Hall; the Broadway musical, "Waitress", with music and lyrics by Sara Bareilles; adult coloring books.

Episode

22

-

May 29, 2016

Actress Jane Krakowski (Unbreakable Kimmy Schmidt (2015)); Sen. Mitch McConnell (R-Ky.); The Monkees. Also: a report on road rage; a visit to Utah's Zion National Park; a story about Japanese flags, taken by U.S. soldiers as souvenirs during World War II, that are now being sent back home.

Episode

21

-

May 22, 2016

A "By Design" the red edition. Included: to re-makeover experts Chip Gaines and Joanna Gaines; "all-leisure fashion trend; golfer Jack Nicklaus; skyscraper design; Christian Dior's to re; city flag designs; custom fish tanks; Chinese food takeout boxes; Q-tips; umbrellas; Charlize Theron.

Episode

20

-

May 15, 2016

Political commentator Rachel Maddow; comedian Fred Newman; the National Geographic Bee; tree climbing goats that help create argan oil. Also: a young man's journey toward recovery, after being in a coma.

Women waiting until later in life to have children; Keith Urban; Allison Janney (Mom (2013)); YouTube CEO Susan Wojcicki.

Singer Marc Anthony; Medal of Honor recipient Clinton Romesha; Rev. Rob Schenck. Also: a report on senior citizens who use marijuana in states where it's legal; a visit to Northwest Angle, Minnesota, which can only be reached by going through Canada; an interview with a man who has walked nearly every street in New York's five boroughs.

Episode

17

-

April 24, 2016

Larry Wilmore; Phil Knight. Also: problems caused by people donating unneeded items after disasters.

Episode

16

-

April 17, 2016

A profile of Joy Mangano, the creator of the Miracle Mop and subject of the movie, Joy (2015); an interview with comic book legend Stan Lee; and interview with actress Leslie Caron; a visit with the Benedictine Monks of Norcia, who recorded a surprise hit album; genetically modified organisms.

Episode

15

-

April 10, 2016

A report on sperm donors and the children they father; a profile of singer Rhiannon Giddens; a look at the past and future of the Goodyear Blimp; an interview with producer Norman Lear; a visit to an exhibit on the life of author Ernest Hemingway.

Episode

14

-

April 3, 2016

West Virginia residents discuss their hopes for a Trump presidency; actor Warren Beatty (Rules Don't Apply (2016)); TV host Trevor Noah (The Daily Show (1996)); chef Bobby Flay; a group that restored a derelict World War II B-29; a man who cleans veterans' tombstones.

Episode

13

-

March 27, 2016

An interview with Lady Gaga; profiles of winners of the Carnegie Medal; an interview with Hall of Fame quarterback Steve Young; a profile of Casey Affleck. Also: a man who makes quilts inspired by heavy-metal music.

Episode

12

-

March 20, 2016

A profile of musician Gwen Stefani; interviews with Steve Martin and Edie Brickell; a report on why some people have better luck than others; a trip to a museum exhibiting the works of artist Norman Lewis; a tour of the CBS Broadcast Center.

Episode

11

-

March 13, 2016 Special: Guns and Amer...

The history of guns in America; talking to the NRA about arming citizens; the growing number of women who own guns; military veterans in Chicago work with teens in an effort to reduce gun violence; how the Marines are updating their firepower.

Episode

10

-

March 6, 2016

The threat of an earthquake and tsunami in the Pacific Northwest; singer Meghan Trainor; actress Holly Hunter; the life of artist Jackson Pollock; Arkansas' Hot Springs National Park; Salt and Pepper Collectors Convention.

Episode

9

-

February 28, 2016

The history of movie trailers; actress Saoirse Ronan; singer Elton John; the level of truth in ``based on a true story'' movies; Academy Award historian Robert Osborne; the movie buff behind IMDB; Oscar picks; talk show host Tavis Smiley.

Episode

8

-

February 21, 2016

Assisted death for those with terminal illnesses; books that aren't really books; actor B.J. Novak; Kentucky's Mammoth Cave National Park; actress Jennifer Jason Leigh; snow monkeys in Nagano, Japan; CIA Director Michael Hayden.

Episode

7

-

February 14, 2016

Climate change's impact on polar bears; songwriters Diane Warren and Lady Gaga; actors Ryan O'Neal and Ali MacGraw; singer-songwriter Chris Isaak; descendants of presidents; a dessert restaurant called Better Than Sex.

Episode

6

-

Sports fanatics; Super Bowl commercia...

What makes someone a sports fanatic; Super Bowl commercials; the National Park Service celebrates 100 years; director Tom McCarthy; Japan's toilet bowls; actor Jeff Daniels; TED Talks; panthers and broncos.

Episode

5

-

Super Bowl halftime show; falling oil...

Band Coldplay prepares to headline the Super Bowl halftime show; financial implications of falling oil prices; actress Samantha Bee; actor Bob Odenkirk; Iowa Caucus preview.

President Barack Obama; former professional football players Tony Dorsett and Archie Manning discuss head injuries in the sport; actress Charlotte Rampling; expressionist painter Ernst Kirchner; restrictions on who can be president.

Episode

3

-

Inventor Joy Mangano; Genetically mod...

Inventor Joy Mangano, the subject of the film ``Joy''; controversy regarding genetically modified organisms; comic book writer Stan Lee; actress/dancer Leslie Caron; The Monks of Norcia; Australian cake decorators.

Episode

2

-

Sperm donors; Rhiannon Giddens; the G...

Sperm donors and the children they father; singer Rhiannon Giddens; the Goodyear Blimp; producer Norman Lear; Ernest Hemingway exhibit at the Morgan Library in New York.

Episode

1

-

January 3, 2016

Actress Kate Winslet; the practice and power of meditation; actress Lily Tomlin; Chicago's architecture; an island in Japan where cats outnumber humans 10 to one; actor Michael Ian Black; the sinking of the Lusitania.
Season
29
2 clips available
If You Like CBS News Sunday Morning, Then Try...
Most Popular CBS News Sunday Morning Episodes